Welcome to Golden Caves Bed & Breakfast
Thank you for visiting Golden Caves Bed & Breakfast. Marianne and Rene love to welcome you and make you "Feel Home Away From Home!"
You will find Golden Caves Bed and Breakfast at the top of the South Island in one of New Zealand's most favorite spots: Golden Bay. Blessed with Mediterranean-type climate with long summers, mild winters and plentiful all-year-round sunshine, Golden Bay is a vast paradise for nature/bird lovers or sporty people who enjoy fishing, kayaking, rock climbing or horseback riding.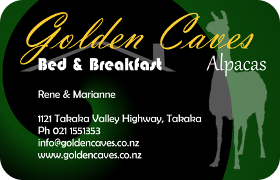 Drive over Takaka Hill, known as 'marble mountain', and discover a different world.
Nestled in Takaka Valley on a 31 acre lifestyle farm, Golden Caves Bed and Breakfast offers remarkable views in all directions and is just 'steps away' from Abel Tasman National Park renowned for its pristine and safe beaches, falls, sculptured granite cliffs and a world-famous coastal track.
Golden Caves offers two spacious, modern and private bedrooms en suite in a quite setting combined with a large lounge. A gourmet European or Kiwi breakfast with fresh ingredients/fruit will ensure a good start of the day.
Don't miss out and book in advance. We hope to see you soon!